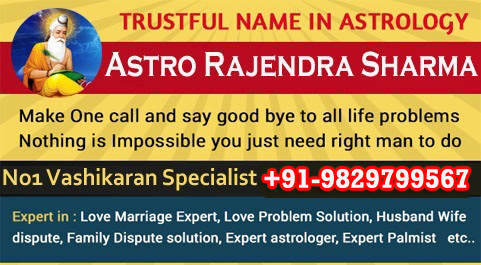 Dr. Pt Rajendra Sharma is younger son of late Acharya Pandit Ramakantji Sharma who was one of the best astrologers in India and descendants of Maharishi Bhrigu Maharaj. Maharishi Bhrigu was one of the seven great sages, the Saptarshis, one of the many Prajapatis created by Lord Brahma, the first compiler of predictive astrology, and also the author of Bhrigu Samhita, the astrological classic.

Pt. Rajendra Sharma is been successfully serving as a Vedic Astrologer (Horoscope Reader, Vastu Shashtri, Numerologist and Vashikaran Specialist) since 22 years, not only in India, abroad as well.

His expertise lies in Predictive Astrology (or Phalit Jyotish) by using the principles and concepts given in the RED BOOK and Vedic astrology. His helps in analysis of horoscope on various issues of life like: - education, career, professional growth, marriage, childbirth, financial issues, property, material assets, Get love back, Guidance for Business Growth, Physical problem, Willful marriage, Love marriage problem, Problem between husband wife, Study problem Solution, House hold problem Solution, Misguidance problem Solution, women and men Vashikaran specialist, Black magic (kala jadu) specialist, Divorce Problem Solution, Love Problem Solution, Foreign traveling problem Solution, health issues and to estimate about the past tense, present tense and future tense of his/her life using the concept of Vinshottari Mahadasha-Antardasha as mentioned in Parashar Book.

Dr. Pandit Rajendra Sharma is the first internationally acclaimed famous astrologer of India on Social media. He has been honored by gold medal at the National Astrology. He is one of the rare, new age, unconventional vedic astrologers in India who is well educated, highly qualified, techno savvy, widely travelled, straightforward with a logical bent of mind and who is one of the fastest emerging global brands in the field of Indian Horoscope Astrology and one of the most sought after astrologers in India today.

Before taking Astrology as a full time profession he tested it thoroughly while conducting a research work on hundreds of horoscopes and found some strength in it and then made up his mind to pursue it as a full time profession.

Nationally as well as internationally he has been recognized as the best astrologer today for his clean approach towards Astrology. He doesn't encourage superstitions in any manner & never misleads his clients in the name of so called baseless remedies.